"The proposal will forever alter the heritage fabric of the pool as well as the social and cultural heritage of the pool, favouring privatised retail uses over public recreation," she said.
Her concerns were echoed by fellow councillor MaryAnn Beregi, who said the revamp amounted to the privatisation of a public space.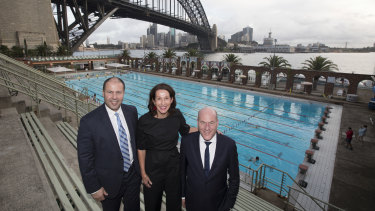 "The plans seek to turn the North Sydney Pool complex into something of a cross between a Westfield food court and a night-time function/entertainment centre, with a bit of swimming on the side," she said.
Former North Sydney mayor Genia McCaffery said the proposed redevelopment would destroy an art deco precinct the pool forms with Luna Park and the Harbour Bridge.
"North Sydney Council appears to be too greedy and has little or no respect for its own pool's heritage significance," she said.
Cr Gibson said Ms McCaffery had failed to address the declining state of the pool during her 17 years as mayor. "In my opinion, she was negligent to allow this historic Sydney landmark to fall into a state of decay," she said.
Ms McCaffery said there had been an award-winning renovation of the pool in 2000, which extended its life by about 20 years. She also said the council had the money to rebuild the pool without going into debt.
"I cannot understand how the current mayor could make such a claim given that she's part of the council for over 16 years," she said.
The council's development application for the pool revamp, backed by most councillors, will be considered by the North Sydney planning panel on Wednesday.
Councillors Baker and Beregi oppose the redevelopment plans and have urged residents to lodge objections.
"The three minority councillors are behaving like attention-deprived children," Cr Gibson said.
The Herald reported last week that Cr Beregi's sons had submitted objections to the redevelopment.
The pool overhaul has been plagued with controversy amid concerns about the rising costs, delays and secrecy surrounding the project.
The pool was embroiled in the "sports rort" scandal after it received a $10 million grant before the federal election from a fund originally designed to build female change-rooms and upgrade community swimming pools in rural and regional areas.
Andrew Taylor is a Senior Reporter for The Sydney Morning Herald.